Meet Chef Wayne
How long have you been a chef? What got you interested in cooking?
This August, I'll have been working in kitchens for 21 years. I went to Le Cordon Bleu in Minneapolis and graduated in 2009, so I started my professional career 13 years ago after I was hired at the restaurant I did my externship at. I worked at a number of great kitchens in the cities, including the Grand Café, where I worked with my first mentor, Jon Radle, and later became executive chef of that same kitchen. After that, I moved out to the Bisman area and spent time at Humpback Sally's with Kate Gerwin and an essential three years at Pirogue Grill with my other mentor, Stuart Tracy.
I've always loved to eat, and from a young age I became comfortable in a kitchen. When I was a junior in high school, I joined a program called ProStart, which was sort of a college prep for people interested in the industry. It was my first 2 hours of school every day, and we did more advanced cooking projects and went to food shows. I slowly became obsessed with cooking and doing it professionally, leading me to want to attend culinary school.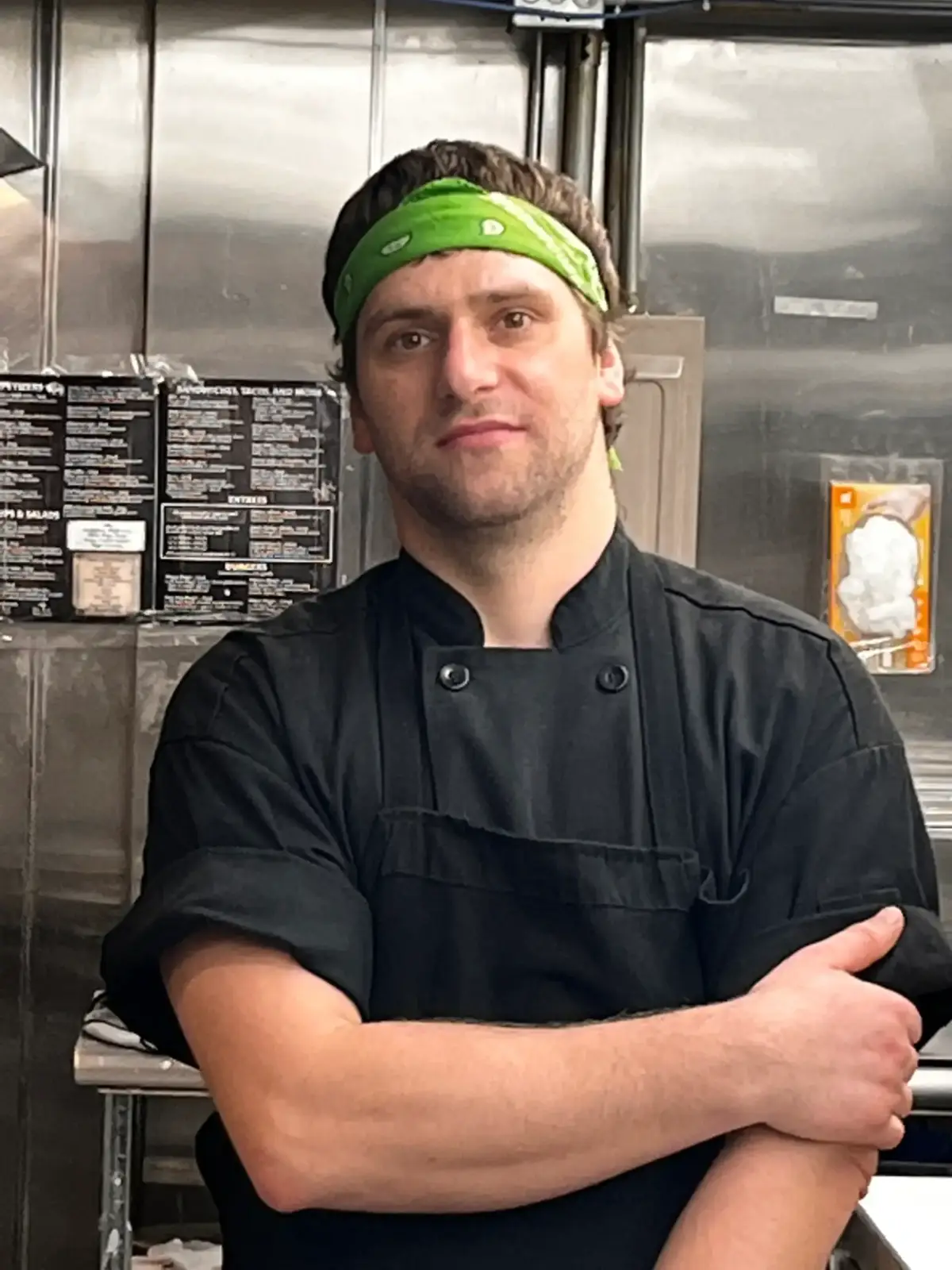 What inspires you in your cooking?
Passion, the desire to learn, and creating memorable experiences for guests I get to cook for.
What is your favorite cuisine to prepare and eat?
I always have a hard time with this question. I suppose French cuisine, just because French cuisine brings technique and a professional component to cooking. My favorite thing to eat is probably fresh pasta, a good sandwich, or certain types of charcuterie.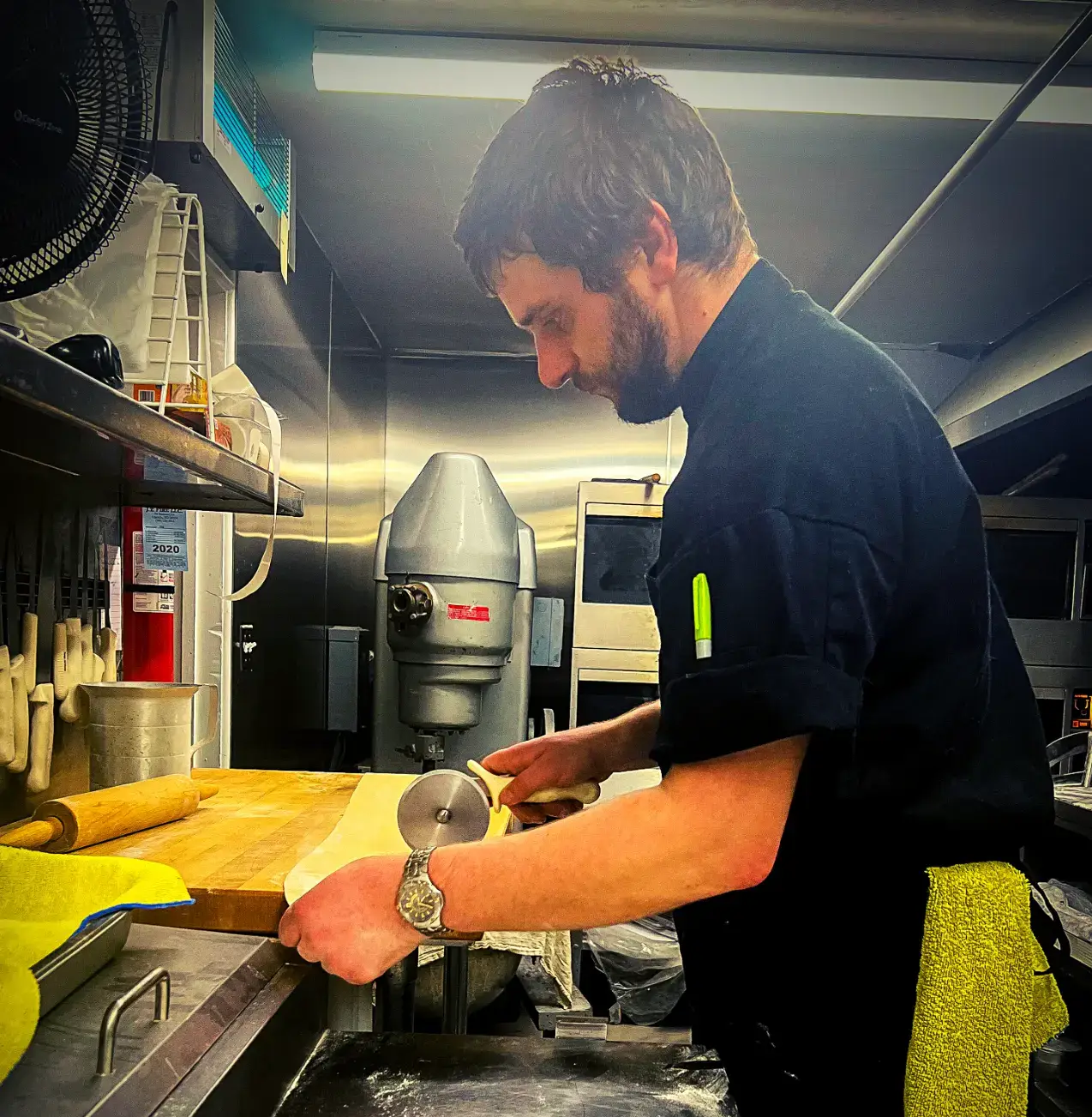 What is your favorite thing on the Stage Stop Menu?
Right now, my favorite thing on the Stage Stop menu to eat and cook it is probably the fettuccine alfredo with chicken. It takes a little bit of technique to execute the sauce and, when done right, mixed with the fresh pasta, it's probably the best alfredo I've ever had.
What new things are you trying with Stage Stop's menu?
I introduced fresh pasta, because I have a lot of experience working with it. I've also transformed the Brutus Dog to be made from scratch from start to finish for similar reasons. I took these two items that were already on the menu and made them exceptional. These menu items are also rare in the sense that not many other chefs are doing stuff like this in the area. As we continue to grow, I will continue to introduce more made-from-scratch items that should be exciting.
Tell us about the legendary Brutus Dog and the new Brutus Dog Challenge…
We already had the Brutus Dog at Stage Stop when I started working here, but then the producer stop producing the 22 inch frank. I have a lot of experience with making sausages, so I came up with my own emulsified sausage (hot dog) recipe and made them 22 inches long. It took a little research and development, but now I've got a pretty mean dog that is a monster. We love this new one, and now we can say we make it from start to finish, grinding, seasoning, emulsifying, piping and serving it up. I'm currently working on a house-made bun to go along with it. If you come in to try it, you can take a shot at winning a free Brutus Dog and a Stage Stop t-shirt if you can down the whole thing, with the works (over 3 lbs altogether), in 30 minutes or less. Good luck!
What is your favorite thing about being head chef at Stage Stop?
The freedom to get to express my creative side, the family we have formed as a team at Stage Stop, and the opportunity to serve the community of Mandan and the surrounding areas to what I believe and hope they think is some excellent food.
What are some of your goals with being head chef at Stage Stop?
Since I began working at Stage Stop (and really since I first saw the place since it re-opened), I see a huge amount of potential. I'm excited to help Stage Stop reach its potential. Its décor and feel are fresh and modern, it has a great atmosphere, and now it's finally becoming family friendly. I hope to keep introducing more unique, made-from-scratch menu items, including a few dessert items like a crème brulee with different flavorings, a seasonal cheesecake, and different types of tarts. I plan on doing some more charcuterie, like pâtés, and other cured and pickled items. I hope to start doing some different lunch and dinner specials to make Stage Stop a prime spot to come and have dinner for a nice night out or special occasions. I want Stage Stop to be a place people will want to come not just for the bar, but to also to have a special dining experience.